CannaRoyalty Corporation
The Cannabis Conversation
Green View Magazine interviews Afzal Hasan, President & General Counsel of CannaRoyalty Corp., for our focus on the emerging North American Cannabis Industry.
CannaRoyalty Corp. provides investors unique access to diverse, high potential assets in North America's emerging cannabis market. The Company focuses on building and supporting a diversified portfolio of growth-ready assets in key segments of the cannabis sector, including research, consumer brands, devices, and intellectual property. Serving customers in the United States and Canada, CannaRoyalty's management team combines a hands-on understanding of the cannabis industry with seasoned expertise in achieving business development objectives and growth.
There is no disputing that cannabis is generating a buzz throughout North America. As of October 17, 2018, marijuana will be officially recognized as a legal substance in Canada. Founded and headquartered in Ottawa, CannaRoyalty Corp. sees many challenges ahead for the country as it attempts to regulate this misunderstood and often controversial industry. CannaRoyalty's U.S. operations, however, are evolving quickly and the focus is currently on the plethora of opportunities in the California cannabis scene.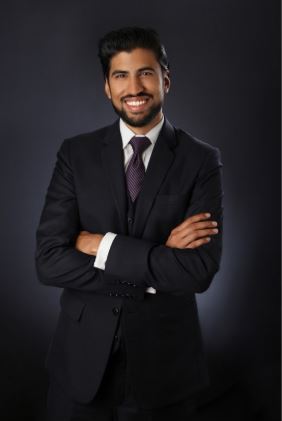 Business View Magazine recently spoke with CannaRoyalty Corp. President and General Counsel, Afzal Hasan, who gave us his candid views on the cannabis industry, including the importance of social responsibility and his company's vision for the future. With education being a key component of the global cannabis dialogue, there is much to be gleaned and appreciated from our conversation.  The following is an edited transcript.
BVM: What was the mindset that led to the formation of CannaRoyalty Corp.?
Hasan: "The company was formed three years ago, initially to take advantage of a growing trend in the market involving the cannabis industry and a separation between the Canadian industry, where our capital was just starting to flow from investors, and the American industry where capital was in short supply due to legal constraints and issues, but where opportunities were far more attractive and lucrative. At that early stage, our founder and CEO, Marc Lustig, began to raise capital in Canada and deploy it into higher value opportunities in the U.S., and Canada as well, over time. That was the genesis of the company.
"Marc had a strong belief in brand power. That was a large part of what attracted me and a number of others to this company. That belief has carried us forward into our present business model, which is fundamentally different from what it was a year ago and what we've seen from other cannabis companies. Our transformation and shift is now well in progress, based on disclosures we've made to the market and acquisitions we've completed."
BVM: What is the goal of that transformation?
Hasan: "Ultimately, our vision in five to ten years is to be a household name with many brands. Think, Pepsi-Frito Lay or Proctor & Gamble. The general concept would be a company with a number of wholly-owned brands that are global in scope. We have a three-step strategy to get to that end goal. One: Become the leading distributor of cannabis products in California. Two: Take the brands that start rising to the top of our distribution platform and acquire them as wholly-owned brands. Three: Take our portfolio of intellectual property and brands to market in California and around the globe.
"We've mapped it out on tactical and operational levels and we're well underway with step one; currently distributing more than 50 brands in California, which places us at number one in the breadth of cannabis brands being distributed anywhere. In step two, we've completed the acquisition of one of the most promising brands on our platform – FloraCal Farms. California is where the value is being driven and where business is actually happening in this industry."
BVM: What is the biggest challenge the cannabis industry is facing?
Hasan: "Illegal dispensaries are the biggest problem. Consumers aren't trying to break the law – they just assume when something is available in a storefront that's it's legal. But more often than not, that isn't the case. In California, you walk into a dispensary after having searched on Google maps, or whatever, and it's probably illegal. It will likely be worse in Canada because of how few legal outlets will actually be ready on Oct. 17th, versus how many illegal outlets will be out there.
"The solution is for companies like us to create products that are viable, interesting, and attractive to consumers. The nice thing for CannaRoyalty is that we do a fair amount of advertising; if you have a product that consumers know about and want, they will go find it. If it's not sold in an illegal dispensary, that's a great way to drive demand away from those outlets. So, that's our part of the bargain – providing the infrastructure and product on the legal side.
"We've had several conversations with the California regulators, and they well understand it's a concern for legal market participants, and they've given us strong indications that enforcement is being cranked up substantially. In the long term, it's a combination of: providing products people want through legal channels, advertising to create demand, and having the regulators crack down on the illegal. Simple problem, simple solution.
"We feel confident that the right elements are in place in California, because we're helping put them in place with the regulators to ensure that this market develops into what we want it to be. We are far less confident about what's happening in Canada because there's a lot of misunderstanding and inexperience. They aren't going to have any of the products people want on Day One. So, I could go in as a consumer and try to buy this mediocre-quality, 15-percent bud that the Licensed Producers (LPs) put out, or I could go to my dispensary and get the latest, cutting-edge, quadruple A, 28 percent cannabis that they're selling. I'm pretty sure where consumers will go if they're discerning about price or quality. And not many will spend four hours researching online whether that dispensary is legal."
BVM: Do you distribute both medical cannabis and recreational?
Hasan: "From one perspective, we sell both adult use and medical because our products are also available for prescription in the medical system. But I draw a strong distinction to let people know that we are definitely not a medical company. I'm not doing clinical trials, and that's not what our business model is going to be.
"Not for an instant would I devalue the medicinal properties of the cannabis plant, but what I'm pointing out is that we're very much an adult use company. In my mind, you can either be adult use or true medical, which includes clinical trials. Companies like GW Pharmaceuticals that are doing the good hard work you need to do to make real medicines, I applaud them for taking the industry where it needs to go."
BVM: How does CannaRoyalty address the social responsibility attached to the cannabis industry?
Hasan: "Social responsibility is a huge part of what we do. It starts off by employing people in local jurisdictions. Giving them good jobs and a good work environment. Then it goes, externally, to different levels of the community that we are involved with as an organization. I believe, at its core, that we're offering people a product on the shelves that increases their choice and their ability to make lifestyle decisions for themselves. And in so doing, that provides a benefit to society. I don't believe that everybody can or should consume cannabis; everyone has the right to live their life the way they like, with the use of cannabinoids or not. What I do think is critical, is affording them the choice to make an informed decision.
"Ensuring the information is there for people to understand the products, ensuring that safe, reliable products are consistently making their way onto the shelves, ensuring the shelves are stocked regularly – that I view as a social good because we're providing consumers that choice. And if you don't provide that choice and access, they will resort to far less safe means in illegal markets."
BVM: Cannabis is a hot topic these days. How do you see the future evolving for the industry and CannaRoyalty Corp.?
Hasan: "We see an immense amount of opportunities in this market because we're in the midst of a societal evolution in terms of cannabis use. I wouldn't confuse or conflate the legalization efforts that are happening now with the justification rationale for cannabis becoming far more front and center. I believe it is cannabis consumption and views having matured that's driven the legalization of cannabis, not the other way around.
"Cannabis is an interesting substance that can help manage your stress, your mental situation, in ways that are very powerful when used in moderation. Cannabis is actually much more consistent with the growing millennial mindset than caffeine. It's something I'm truly passionate about and it's why I'm running a cannabis company. I believe it has a really strong future ahead; where people realize they can lead, in some cases, a better, more fulfilling and productive life with cannabis than without it.
AT A GLANCE
WHO: CannaRoyalty Corporation
WHAT: An active investor and operator in the legal cannabis sector in North America
WHERE: Headquarters in Ottawa, Canada.
WEBSITE: www.cannaroyalty.com

Advanced Business Interiors – www.makespacework.com
For over 25 years Advanced Business Interiors has made space work by providing quality new and remanufactured office furniture to the marketplace. With extensive knowledge of workstyles our team will create a customized solution within your timeframe and budget. We provide a complete suite of integrated services including design, installation, service, storage and rental.

Benzinga Cannabis Capital Conference – www.benzingacannabisconference.com
The Benzinga Cannabis Capital Conference is the premier gathering of cannabis entrepreneurs and investors in North America. Alan Brochstein, founder at New Cannabis Ventures, calls it "the best investor conference the industry has seen to date". Find out why and pre-register for 2019 at www.benzingacannabisconference.com.